It is widely acknowledged that relying on topology optimization can lead to lightweight components. Until now a consistent application of structural optimization has been restricted due to the complexity of the topology results and the costly and time consuming process to realize these results in CAD.
​
Lightweight potential of designs provided by topology optimization usually gets lost during CAD design process.
In order to keep the full lightweight potential of topology optimization outputs it is mandatory to generate CAD components which are fully based on them. Bionic Mesh Design is providing CAD designs which respect the constraints of the desired manufacturing method while maintaining the shape of the topology result. This is possible through application of subdivision modelling techniques in 3D modelling tools like ZBrush, Blender, Maya etc. where the topology output is transformed to a manufacturable CAD file.
Topology optimizations deliver only a rough idea of the relevant loadpaths according to the loadcases used. There is no information about the dimensions of the loadpaths available. Therefore it is mandatory to have quickly CAD models based on the topology results available that allow for simulations with standard loadcases to evaluate e.g. stress distributions. Often the first results still show hot spots with stress concentrations. Shape optimization can easily reduce these stresses while maintaining the mass of the component. Afterwards our workflow guarantees a fast carry over of the optimized shape to the CAD model.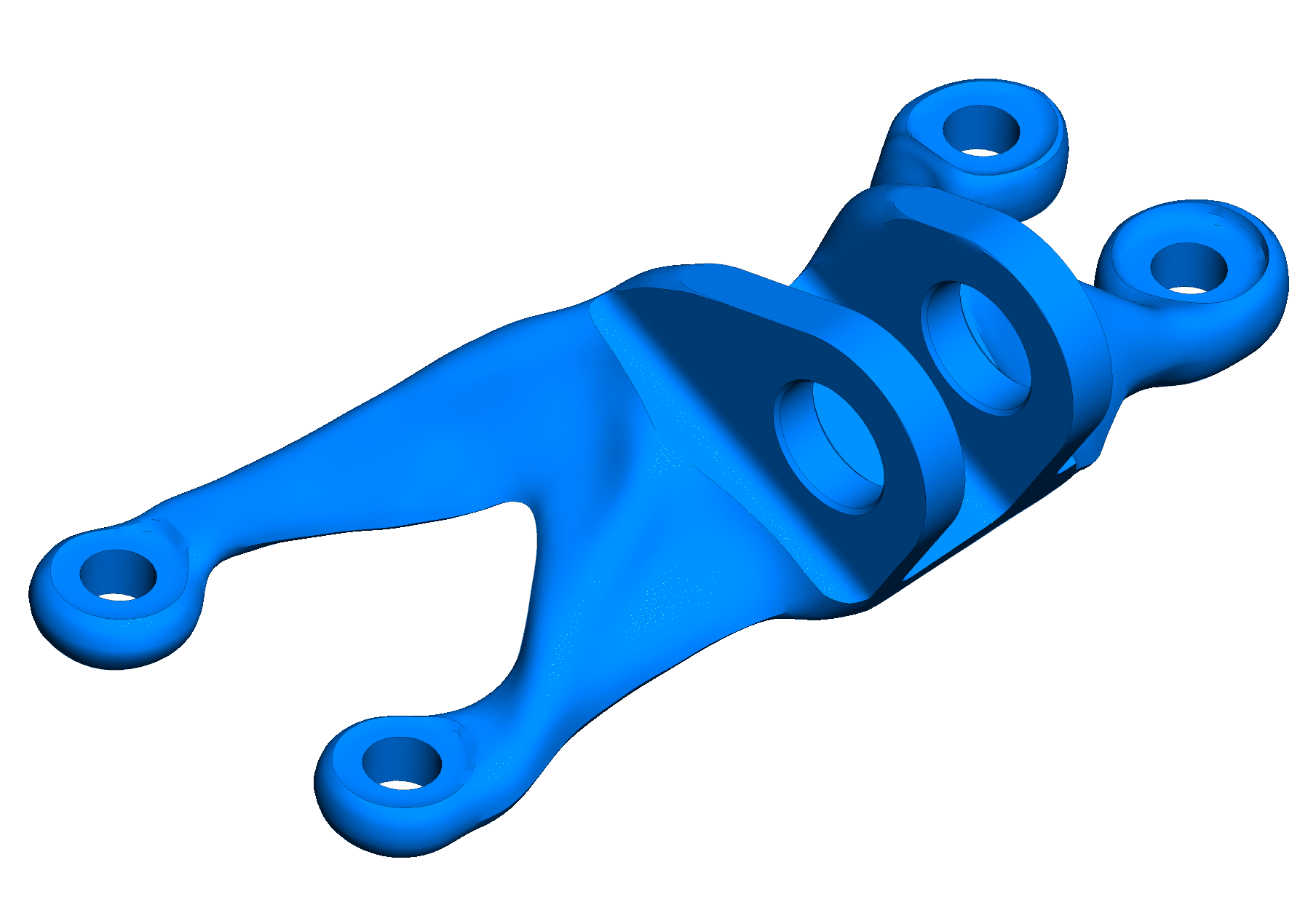 Although the topology optimization provides ideal structures, manual design adjustments may be necessary due to package changes or a relocation of screwing points.
In contrast to the conventional approach in CAD, the component is not redesigned, but can be adapted to the new boundary conditions in minutes.
Experience has shown a possible design time reduction of 50 to 90 percent compared
to remodeling topology results in standard
CAD. Due to a fast subdivision modeling process design modifications because of package changes can be done in real time.
Investigations of different manufacturing methods can be carried out with final CAD models.
Mass saving no longer coincides with higher manufacturing cost. Keeping the same standard manufacturing method along with less material consumption leads to drastic reduction of part cost.
In general optimization leads to light, strong and stiff parts. But in addition to that Bionic Mesh Design enables a full carry over of designs generated with methods like shape optimization to manufacturable CAD models to achieve for example a desired NVH or ride and handling characteristics of suspension components .
​
Reduction of the carbon footprint by protecting resources and using them with respect.
Based on our many years of experience in simulating and optimizing structural components we are capabable to define optimization setups for all types of structural components.

Optimization can be carried out on single components or on full assemblies.
​
Definition of design spaces according to the available package spaces

Topology optimizations with linearized loadcases to find initial loadpath distribution

Shape and Free-Shape optimizations with standard loadcases to achieve the optimal structural performance and mass
​

Application of polygon modelling tools to transfer topology results to manufacturable CAD models

Consideration of all manufacturing relevant constraints like draft angles, thicknesses, overhangs, ...

Generation of subdivision bodies to be used as solid bodies in CAD tools.
Retopolgy output will be imported in CAD by all known CAD interfaces like IGES, STEP, etc. In addition most major CAD tools have their own subdivision modelling environments
​
CATIA (Imagine & shape)

Siemens NX (Realize shape)

Solid Works (

ShapeX, Power Surfacing)

Creo Freeform
which allow for a direct integration of subdivision bodies.
Subdivision bodies are then handled as standard solid bodies and can be finalized by integrating holes, boolean operations, etc.
STRUCTURAL ANALYSIS
VALIDATION
Finite Element simulations of both the basic models to generate target values and the optimized geometries to validate them are carried out. The common solvers for strength-, stiffness-, NHV- and crash-simulations are used here.
We show you how to get the maximum lightweight potential out of your components in no time. We offer training for the adaptation of Bionic Mesh Design in your company.
​
Software training (structural optimization, polygon modelling for engineering)

Manufacturing constraints

CAD integration of subdivision bodies